January 29  |  3 minute read
Our older children range in age from 32-18, and after them comes our son, Peter, who is 11! Peter has Down syndrome, and once we learned all about the joys of Down syndrome, as well as the need for international adoption of children with disabilities; we became interested in pursuing that option as well. Here in the United States, there is a waiting list to adopt children with Down syndrome, but in other countries those children are often institutionalized. In Russia, at that time, children with Down syndrome were often sent to a psychiatric institution after the age of 5 or 6. That reality tore at our hearts. On top of that, Peter is much younger than his siblings, plus making friends requires lots of support, so we could see the value of a special inter-family friendship. It was a process that we started hesitatingly and prayerfully. Our agency happened to have a strong connection to China, so we eventually met our son Stephen through an assortment of little pictures and finally brought him home in 2014, which means he has been a part of our family nearly 7 years!
Peter and Stephen have grown up together! Stephen, who just turned 10, teaches Peter to be gentler, and Peter teaches Stephen to be more adventurous. Like Peter, Stephen has Down syndrome, and he has autism as well. He is almost completely non-verbal, although he can make noises to mean "Home" and "Mama"… we're working on one for "Papa", too!
When we adopted Stephen, we didn't know his full range of disabilities, which we've definitely had to adapt to. However, God works in mysterious ways, and it has been a wonderful thing for both boys. While there are sometimes challenges, Peter and Stephen are such special blessings who bring much joy to our family.
The boys are little buddies, always playing together, inside and out. They are very different but have a lot of the same interests—which means they LOVE going to Jill's House Blue Ridge Camp together! They've always gone together, which they really prefer. Their friendship is very sweet, which has been so important for each of them to have during the pandemic. We cannot even imagine what it would have been like for them to be on their own during this time.
On the flip side, our hands are full! We are so fortunate that Peter & Stephen have some older siblings to come in and out and help us, and of course we have Jill's House as a huge help, too! But yes, as you can imagine, we fall asleep quickly at night!
The change that came with school when the pandemic hit was something huge to adapt to—it was a big challenge to supervise everything constantly. Zoom was hard for Peter and Stephen when everything first shut down. It was hard to keep sufficient structure initially, which is key for our sons.
The boys were planning on going to Blue Ridge Camp on March 13th 2020, the weekend that everything shut down! That was such a big heartbreak for us, that the world shut down on that particular weekend. That morning we had the boys' bags packed and we thought that time at camp would be how they spent their weekend. We are SO glad to say that we have been able to come to Jill's House Blue Ridge Camp since it reopened, which has been a joyful highlight for both the boys and for us.
Because he is nonverbal, Stephen has a speaking device. On it, he has a page of places, and we had to add Jill's House Camp because he really wants to say it! When Stephen sees the Jill's House logo, or wants to count down the days—because we do count down the days until time at Jill's House! —he uses his speaking device to communicate his excitement and anticipation.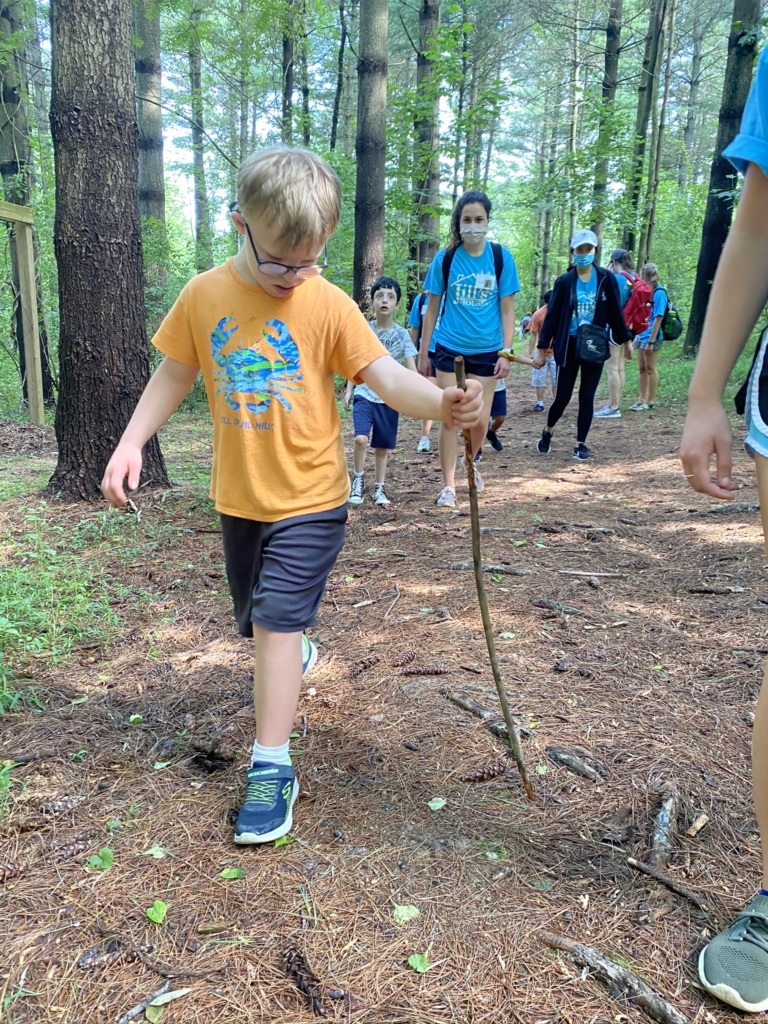 There are reports that come home each time Peter and Stephen have had a stay, and they read: "What we love about Peter" and "What we love about Stevie"—they are just beautiful. They warm a parent's heart. Based on what these reports say, and what Peter has said, he loves the high swing! He has a very adventurous spirit and loves anything in the outdoors, so Blue Ridge Camp is perfect for him. Stevie loves board games, so he really enjoys playing those with the counselors out at camp, but he also enjoys new things, like hayrides. The counselors give them one-on-one attention and yet guide them to be a part of the group, which is so good for our boys.
Jill's House is a place that we really have confidence—the staff are familiar with the disabilities that our children have, there is full understanding of the medical needs of our children, and the combination of fun and structure of Jill's House is amazing. We are very fortunate that our boys are physically capable to go adventure around outside. We were stunned that there was a place that even existed like this, and the glowing recommendation of a friend is what drew us to it initially. She referred to it as "a spa for special needs children"—how accurate!
Jill's House is such a unique operation. When we have told people in other places about Jill's House, people who don't have access to what we do through Jill's House, they are amazed, because it's hard to find programs like this. We are so grateful that we have such a wonderful thing—there really is nothing else like it. My husband, Chris, and I don't have parents who are able to take the boys and care for them, and it's helpful when an attendant comes to our home, but it is certainly nothing like what Jill's House frees us up to do, including special events with our older children. It meant so much to our daughter that we drove up to her college to attend a parent's event, were able to spend the night, and spend the next day with her—things we absolutely could not do without our boys staying overnight at Jill's House Camp!
Thank you for seeing the beauty of our children. That is what is most touching. We view Jill's House as faith in action in the most beautiful way—everyone invested in Jill's House loves and cares for people who are so often on the periphery. Thank you for making this amazing opportunity possible for families like ours, here in Virginia and all around the country.
Enjoy this story? Share it with your friends or read more like it!
Enjoy this story? Share it with your friends or read more like it!